Some of the most WOW presents are luxurious body products. Pamper yourself or that special someone with our latest finds which also happen to be chemical-free!


Lluvia Replenishing Moisturizer

Lluvia means "rain" in Spanish. Give a friend the gift of natural Rainforest botanicals with exotic ingredients like Extract of Samambaia, Sangre de Drago, Camu Camu and Espinheira Santa.
Osea Advanced Protection Cream


Pamper a best friend with a gift of this wonderful cream. With Red Algae Extract, it also contains a high concentration of vitamins, minerals, amino acids, enzymes, calcium, magnesium, iron, manganese and zinc.


Lluvia Crystal Exfoliator
Amazon Super Foods
Tiny grains (marine silica crystals and marine algae) gently exfoliate, refine and then polish your skin, using the purest of rainforest botanicals.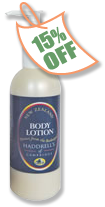 Manuka Honey and Lavender Body Lotion
Natural Kiosk
Friends don't let friends put on body-harming preservatives! Put a friend on the right track: There are only three ingredients in this amaZing body lotion! Manuka 10+ honey, glycerin and essential lavender oil. That's all!
Holiday Discount: 15% off
Discount Available: Nov 1- Dec 25
Coupon code: HOLIDAY 2007




Khushispa Balancing Shower Gel
Holiday Discount: 25% off
Discount Available: Nov 1- 30
Coupon code: zing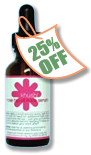 Khushispa Rose Hip Oil Facial Serum
Discount: 25% off
Discount Available: Nov 1- 30
Coupon code: zing



Evening Primrose Rejuvenating Facial Cream
Natural Family Botanicals
Holiday Discount: 10% off
Discount Available: Nov 1 – Dec 31, 2007
Coupon Code: "zingsale"

Khushispa Solid Body Butter
Holiday Discount: 25% off every order
Discount Available: Nov 1- 30
Coupon code: zing

Check it out:
Monave's Sultry Blushes on sale
Regularly $13.50, now $11.50

Monave Multi-Purpose Mineral Powders
Mix up your own custom, unique shades with Monave Mineral Makeup Powders

also check out
Liplovers Lip Balm
Kabana Skin Care
A great unisex stock stuffer for friends and family who love outdoor sports.