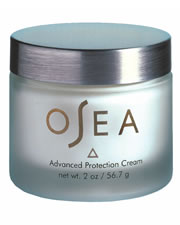 Advanced Protection Cream

Osea

The creator of this line decided to do something radical: instead of spending money on packaging, free gifts and celebrity models, she invested her money in the finest ingredients. This intense moisturizer is a perfect example of rich, effective, high-tech but natural ingredients that make a difference in the texture, tone and appearance of your skin.
There are two main ingredients. Red Algae Extract; known for its high concentration of vitamins and minerals, amino acids, enzymes, trace elements, calcium, magnesium, iron, manganese and zinc. DHPH is a high tech combination that helps in the production of collagen. With its long lasting moisturizing and firming action, DPHP delays the appearance of wrinkles by protecting the fibers deep in the skin.
Also included in this 2-ounce jar are coconut emollients, coconut and corn emulsifier, squalane, glycerin, aloe vera, algae extract, macadamia nut oil, grapeseed oil, jojoba oil, amino acids, vitamin E, A, C and D, avocado oil, calendula extract, and grapefruit terpenes. As you can see from the ingredients, your skin is actually being nourished, repaired and protected as well as moisturized.
These 100% natural ingredients make your skin feel soft and supple. We loved the way that it immediately soaked into the skin, leaving behind the slightest trace of moistness. It's as if there were a moist microscopic barrier between your skin and the elements: light, fragrance-free and not the least bit oily. This protective barrier imparts the tiniest sheen to your skin so that it looks dewy, glowing and healthy. The sensitive skin types on the team had no problems with any of the ingredients.
The price of this jar is close to $100, but you are getting what you pay for. Every ingredient is pure and has been carefully chosen to nourish and benefit the skin. The owner saw too many well-known skincare lines filling bottles with a dollar's worth of toxic chemicals and fillers and charging $100. Her dream was to create a product based on only the best of the best ingredients. PureZing believes that she has fulfilled her vision. This is a rich, pure product that leaves your skin feeling soft, moist and nourished.

You might also like...

Osea Atmospheric Protection Leaves a protective film on your skin that acts like a barrier to the drying or toxic elements of weather or pollution. Read more...

Osea Ocean Cleansing Mudd This cleanser is for daily use for those with oily or acne prone skin, or for weekly use for deep pore cleansing of normal to dry skin. Read more...