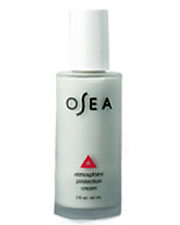 Atmospheric Protection

Osea

The creator of this 100% natural moisturizer says that it leaves a protective film on your skin that acts like a barrier to the drying or toxic elements of weather or pollution. It does, but before you think thick, oily or sticky, think again.
This is a marine-based product, and the first ingredient is red algae gel extract. Red algae soak up the nutrients of the ocean and give it to your skin in a light but nutrient-rich form. Vitamins, minerals and amino acids in the red algae mix with the following to create a nourishing but protective moisturizer for your skin: vegetable glycerides, macadamia nut oil, emulsifier from olive oil, corn and coconut glucolipids, shea butter, jojoba oil, avocado oil, natural smectite clay, wheat protein, vitamin E, calendula extract, plant amino acids, laminaria algae extract, vitamin A and D, gingko bilboa and grapefruit seed extract.
The fragrance is slightly like lime, and the texture is creamy, light and absorbs into the skin easily and quickly. The color is the palest green and it is in a simple, frosted glass 2-ounce bottle with a pump top. The presentation is such that even men could comfortably leave this out on their countertop. The size is great because it would travel easily or even fit into a purse for those who wanted to freshen their 'atmosphere protection'.
We find this a perfect moisturizer for daytime use under makeup, or for men who want to protect their skin, but who are leery of heavy creams. After this product has soaked in, you can actually feel a light glaze on your skin. It is not heavy or thick, and definitely not oily. There is the slightest sheen to it, which makes your skin look healthy and dewy.
Every one of us liked this moisturizer a lot. A daily moisturizer for oily-balanced to dry skin types, this was a hit with both men and women and the high quality, all-natural ingredients prevented any sensitivity problems.

You might also like...

Osea Eyes & Lips One container with a solution for two problem areas: eyes and lips. Read more...

Osea Advanced Protection Cream This intense moisturizer is a perfect example of rich, effective high-tech natural ingredients that make a difference in the texture, tone and appearance of your skin. Read more...