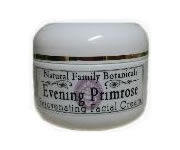 Evening Primrose Rejuvenating Facial Cream

Natural Family Botanicals

We loved this facial cream for a number of reasons. The first thing that you notice is the heavenly fragrance, the second is the light but rich formula, and the third is the results.
The ingredients, of course, are responsible for all three remarkable qualities. Here they are: rose hydrosol, distilled water, evening primrose oil, jojoba seed oil, Emu oil, vegetable emulsifier, shea butter, borage seed oil, palm stearic, green tree extract, grapefruit seed extract, vitamin E tocopherol, rosmarinus officinalis extract, essential oils of organic lavender, geranium, bergamot, sandalwood, patchouli and carrot seed.
The owner has a good hand with the essential oils and they are a delight: not too heavy, not too sweet… fresh and lovely. As this is recommended as a night cream, the fragrance is lovely to go to sleep by.
The contents of the 1-ounce jar are look like they have been whipped, and are a pale cream color. Although the texture is light, there is a decided lushness to this cream. The oils are not heavy, but they are there, and they feel moist and rich. Emu oil is a plus as it is known for healing difficult skin problems, shea butter is gentle but effective and evening primrose and borage oil are filled with GLA which create healthy skin. Antioxidants found in the green tea extract are known to fight the free radicals that age skin and grapefruit seed extract hydrates as it fights bacteria.
This is a hardworking night cream that is nourishing, gentle and effective. Our team felt that their skin looked and felt better after a nightly use of this moisturizer. We all enjoyed the results as much as we enjoyed falling asleep to the delightful fragrance. A little goes a long way with this cream, but as the price is right, you may want to be generous and use it on your neck and the back of your hands for a luxurious treat.

You might also like...

Lily Organics Organic Moisture Mist
Without creams or oils, we could see a smoothness and softness after using this light but highly effective mist. It was as if we had used a moisturizer…but not any kind of moisturizer that we were familiar with. Read more...

Osea Advanced Protection Cream This intense moisturizer is a perfect example of rich, effective high-tech natural ingredients that make a difference in the texture, tone and appearance of your skin. Read more...