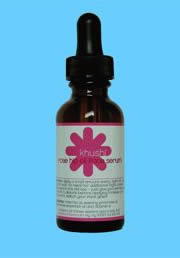 Rose Hip Oil Facial Serum

Khushispa

Good things come in little packages. It's just as true of a ribbon tied gift as it is for this 1-ounce dropper top bottle of all natural skin serum.
What is in this wonderful little bottle? Only four ingredients, but each one is concentrated and targets skin repair and renewal: organic, cold-pressed rose hip oil from Chile, evening primrose oil, frankincense essential oil and vitamin E.
The color is like liquid gold and there is the faintest sweet spicy scent. This oil blend is highly concentrated: literally a drop will spread over your face and neck and do wonders! The owner recommends using it at night as your sole evening moisturizer. When you sleep your body repairs itself…and if you give your skin beneficial oils, it will utilize the healing properties of this rejuvenative serum while you slumber.
This serum can be used in the morning, but be sure and allow plenty of time for it to soak in before you apply any makeup. The blend is very rich and slowly penetrates your skin, softening it and easing wrinkles and fine lines and even lightening sun spots!
Several women on the Pure Zing team have used this either in the morning or at night. It is incredibly rich and each one of us commented on how the oils seem to 'ease' our skin: soothing and smoothing as it slowly absorbs. This is not a lotion…but pure oils…and they sit on your skin longer, allowing the cells plenty of time to soak up the benefits. The result is a glow, a moist, dewy look that is not just on the surface…but comes from deeper in your skin.
You know that fresh glow that baby skin has? Well, that's what is in this little dropper bottle! Use it religiously and you will notice that you skin not only is moister and smoother, but that it looks it!
Whether it is sun, wind, cold or age, our skin gets stressed and thirsty. Serums are known to provide the deep moisture and repair that result in baby skin glow. One drop at a time: you can get the glow back. If you want to see a deep difference in your skin then get this little dropper top bottle of rich and all natural serum.

You might also like...

Khushispa Dry Oil Spray Spray and with a flick of your hand, disperse the oils and yummy fragrance…and watch them be soaked up by your skin immediately! Yes, this oil gets 'gulped' by your skin and almost appears to be dry after application… Read more...

Khushispa Solid Body Butter Get both fragrances! You will use them ALL the time, everywhere and will love that while it glides anywhere you want…the butter never touches your hands! Read more...