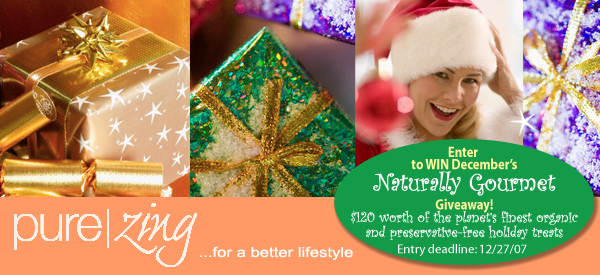 December Newsletter From Pure Zing



Happy Holidays, Zingers!

Ready for your gift giving and receiving? Now's The time to spread the joy of wonderful pure,clean and unique presents, warming the hearts and souls of friends family and even pets! By choosing to purchase what's people and planet-friendly, you are giving goods you can just plain feel good about.

From beautiful organic Merino wool comforters, elegant preservative-free chocolates to hand-crafted pet toys, we've assembled riches to delight, with no planet-harming bite!

Give joyfully and thoughtfully this Season!

The Pure Zing Team
PS. Congrats to all! By buying online you save energy, gas & avoid planet-warming emissions!

No Feathers Please™ Organic Cotton and Merino Wool Blankets

Know someone who's moved to a cold clime? These stunning 100% Australian Merino wool blankets and 100% certified organic cotton woven blankets will astonish with their elegant soft, rich feel and yet lightness. You will be utterly amazed at how elegant, soft, rich and yet light these stunning blankets are! Read more...

Holiday Discount: 10% off regular price of $99.99
Discount Available: Nov 1 - Dec 31, 2007
Coupon code: "ZingSale"

More Divine Delights >$100 and under | $25 and under | $15 and under



Our Urge-to-Splurge Fave (Over $40)

John Kelly Chocolates 12 Truffle Fudge Bars

A true balance of rich fudge and chocolate coating. The best fudge we've tasted! All natural flavorings coupled with Exquisite (but minimal!) packaging makes this a Pure Zing favorite! Read more...

More Fab Food Gifts > $25 & under | $15 & under | $5 & under


Our Urge-to-Splurge Fave (Over $40)

Lluvia Replenishing Moisture

Lluvia means "rain" in Spanish. Give the gift of natural Rainforest botanicals with exotic ingredients like Extract of Samambaia, Sangre de Drago, Camu Camu and Espinheira Santa. Read more...


More Face and Body Gifts > $100 and under | $50 and under | $25 and under | $15 and under

Purrfect Play Silver Cat Charms

Beautiful bell charms from durable metal lobster clasps and fair trade Thai mountain silver. They also use stainless steel split rings that you find on good fishing lures. Each charm has a bell inside for cheerfulness as well as alerting you and other fauna.

Read more...

Holiday Discount: 15% off all Purrfect Play items featured on Pure Zing
Discount Available: Nov 1 - Dec 31, 2007
Coupon code: 9016420076

More Purrfect Play Gifts


Our Urge-to-Splurge Fave

Nu Wave Infrared Oven

This oven cooks over 50% faster than a regular oven. With only 1500 watts (compared to 3500 watts in an oven) it uses 85% less energy! (Retail Price:$117.96) Read more...

More Practical Presents > $30 and under

Dancing Dingo Baby Lavender Lotion

Dancing Dingo's owner picks very rich oils that heal, protect, tone and moisturize… Read more...

Holiday Discount: 15% discount
Discount Available: Nov 1-Dec 15, 2007
Coupon code: "PureSale"


More Baby Gifts > All under $15





"I'm so excited to win! I can hardly wait to try out really clean body products and mineral makeup. I've always wondered if they were nicer and now I get to find out, thanks to Pure Zing. I love your site and wish your team a great holiday."

Alicia M.

Want to see more? Check out

all

of Pure Zing's Holiday Shopping Gift Ideas!

Happy Holidays!

Pure Zing

Digital Reviewers of the Eco-Chic