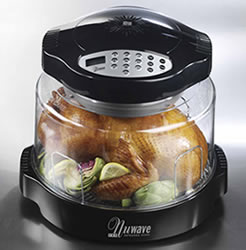 Nu Wave Infrared Oven
Sensory Perspective

There are SO many things to say about this incredible oven…but the first thing to say is, 'IT WORKS!' Many of us (including the Pure Zing team!) could be skeptical about yet another appliance making claims about being the best etc…but the claims on this oven are true!
This oven has won the Chefs Best Award for 8 consecutive years, has received the Seal of Approval from the Cooking Club of America as well as the National Health and Wellness Club Seal of Approval. Pure Zing gives it our Seal of Approval also. Why?
Long-time readers of Pure Zing know that we don't use microwave ovens due to the dangers, and so we have been relegated to cooking with a regular oven. There is nothing wrong with regular ovens, but at times, an oven is just too big for a smaller dish, is hard to clean, and takes too long to cook: using more energy.
This oven cooks over 50% faster than a regular oven. With only 1500 watts (compared to 3500 watts in an oven) you use up to 85% less energy! A great bonus is that this oven doesn't heat up your kitchen, and can cook a small dish as easily as a large one. The clean up is VERY easy, the counter height is great on your back and you can easily reach and see the food as it cooks (no leaning into a hot oven!). It sits on your counter top and can hold up to a 15lb. turkey with potatoes and vegetables on the side! As the top temperature in this oven is 350 degrees, no ventilation is required as no smoke is ever formed. Several of the Pure Zing team members believe that all you need is a cooktop and this oven to meet all your cooking needs!
How does this oven work? It cooks in three ways, all at the same time: convection, infrared and conduction. Infrared radiant heat penetrates foods from the inside out which leaves the food more moist and flavorful as the heat does not have to be as high for complete cooking. Conduction applies heat directly to the food which creates crispy browned results when desired. Convection circulates the heat around the food evenly, which speeds up cooking time, and produces consistent results. Food can literally be frozen, placed in this oven, and in a remarkable amount of time, be browned and cooked to perfection! It was really an odd sensation to take a frozen chicken and place it in the oven and have it crispy browned and ready to eat in about 50 minutes! We had great results with baking bread, pies or casseroles, loved the results with all meats and vegetable dishes, and found a super fast way to heat our wraps and burritos!
This oven air fries without oil, steams, dehydrates, broils, bakes, grills, roasts, and barbeques. It prepares chicken, beef, lamb, pork, turkey, Cornish hens, duck, fish, shellfish, vegetables and even fruit dishes and some desserts! Anything an oven or a microwave can do, this oven can do better! We found that everything our team cooked in it turned out moist, flavorful and beautifully cooked…in a fraction of the time.
The oven is simple. It has a solid base with a large, removable drip pan. This pan is simple to clean…plus it can fit right into a dishwasher. There is one rack, and depending on the recipe, the rack flips so that it is high or low. The dome fits over the base and rack…and has a 'power head' that fits securely into the dome with a twist. This power head has handles so that you can lift the dome, and also is where you punch in the cooking time.
You are supplied a wipe-able, quick glance chart of cooking times, a recipe book with suggested times, and even a diet recipe book. When it tells you that a recipe will take three minutes, all you do is press 'cook time', '3' and 'start'. So easy! There is a 'pause' button for pausing the cooking process to turn something, and a time read out panel to see how long remains on the cooking cycle. There are power levels that relate to oven temperatures, and setting the correct time and temperature is faster and easier than some ovens and most microwaves!
Recipe books, charts and owners manuals are easy to read and understand and are in both English and Spanish. There is a 30-day, money back guarantee…but we don't think you'll want or need it. The oven is well built, easy to assemble, clean and cook with, and as it is only 14-inches wide, it is easy to find room for it anywhere. Because it is light-weight, this oven can easily go on an RV, to a cabin or even to a party! Use metal pans, ceramic, foil or Pyrex glass dishes just as you would in a conventional oven.
Another plus of the oven is that you can either cook meat in a pan to simmer in its own juices and fats, or you can place meat on the rack allowing the fats to drip off into the splatter free drip pan below. In tests, meat that has been cooked in this oven has less fat, while still retaining tenderness, flavor and juiciness! No fats are required for cooking in this oven…and you can even fry: by air!
Want the benefits of dehydrated food? Sell your bulky dehydrator and use this oven! Set the power level to low (125 degrees), and dehydrate thin slices of vegetables, meats or even fruit on the rack.
Your food is not nuked, the molecules of your food do not vibrate, plastic wrap and plastic dishes do not leach dangerous plasticizers into your foods….this is a SAFE, energy and time efficient, portable, easy-to-clean and use oven that really does all that it claims!

You might also like...

Waveshield Radiation Free Headset RF 4000/4001 A hands free, radiation free headset to use with any of your cell or cordless phones. Read more...

Waveshield Silver Shield Do you use a cordless phone or a cell phone? Then you need to read about what this tiny screen can do to protect you. Read more...