Rife Frequency Machine
It constantly amazes us that instead of 'just saying no' to the increase of drugs, drug claims and drug advertising, that people are going to their doctors and asking them to prescribe chemical cocktails that they saw advertised on TV or in a magazine. Regardless of the often deadly effects of drugs, people do not do their homework as to side effects or question the fact that 'pills' only treat symptoms, rather than the disease itself.
Raymond Rife developed the Universal Microscope. This microscope was so advanced that Rife could literally see individual cells, their life, their movement, their reproduction and their death. Rife introduced some cells to various frequencies and noted that some cells died from certain frequencies, while others were not affected at all. Imagine watching as cancerous cells were introduced to a specific frequency…and they died. No other cells died, just the cancerous cells. How would it feel to watch as other diseased cells died when another frequency was introduced…and yet no other cells were damaged or affected in any other way?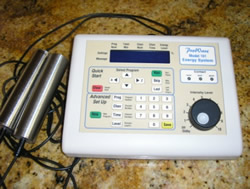 In a nutshell, that is how the Rife Frequency Machine works. Different frequencies are programmed into the machine as they are known and witnessed to only kill and destroy a specific type of diseased cell. Pick the 'disease' that you want to treat, and the correct frequency is emitted to two rods that you hold in each hand. The 'frequency' passes a tingle into your hands, and into your body. Pick the frequency for 'Parasites' and know that those little invaders are now going to be writhing and dying while the rest of your body remains untouched by that particular frequency.
The machine is easy to use. You can either use the battery, or you can plug the machine in to a regular wall outlet. When the battery runs down from repeated use, just plug the unit into a wall unit and the battery will recharge. There is one, large black button. Turn it on. 'Clear' the machine from any previous programs/frequencies that you have used by pressing the orange 'Clear' button, and then select the condition that you want to treat. You can select from dozens of conditions by using 'up' and 'down' arrows and/ or pushing on either the 'A' or 'Z' buttons. Once you have arrived at the program that you want to use, push the green 'Run' button and the program begins.
To read more about the Rife Frequency Machine, success stories, and an in-depth review, please click here.