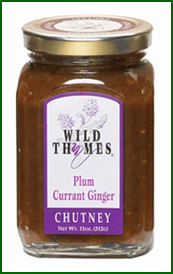 Plum Currant Ginger Chutney Spicy & Rich!

A little bit of heat, just enough ginger, rich in plum flavor and with a chew of soft, plump currants, this spicy, delightful chutney has a lightness to it that is unexpected. This is not a gooey chutney, like some, but fresh and fruity while still being full of complexity and spice.
An 11-ounce jar contains prune plums, raisins, cider vinegar, onions, sugar, oranges, garlic, ginger and spices. There is no gluten, the ingredients are all natural without additives, there is a Kosher Seal and it is sulphate, fat and cholesterol free! We love this wonderful chutney!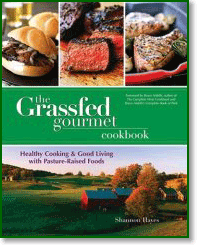 Pure Sublime Style: The Grass-fed Gourmet Cookbook

Author Shannon Hayes tells us how our taste buds have been blunted by corn fed and antibiotic-laced meats. This book re-teaches you what healthy meat and dairy are supposed to taste like.
For an incredible flavor experience, use grass-fed beef in our recipe for Mexican Beef Kabobs.
____________________________________________

AhhhmaZing Benefits of Manuka Honey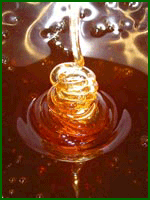 Many doctors don't believe what previous civilizations have always known: The incredible health and even wound healing benefits of honey. Dr. P.C. Molan of New Zealand's University of Waikato Honey Research Unit describes the benefits of one of the most efficacious honeys of all – New Zealand's Manuka honey. Not only is honey to eat and enjoy, Manuka is being used by hospitals and smart consumers as a way to heal burns, inflammations and more...
Read Related Reviews: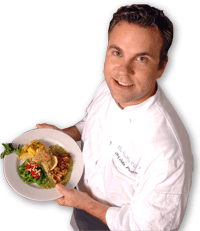 Chef John Procacci of Healthy Chef Creations is going to WOW you with recipes, shortcuts and articles that will show you just how easy it is to eat gourmet meals that are healthy and easy to prepare. From soup to nuts... including fabulous entrees and desserts, you'll learn amaZing tips and tricks from Pure Zing's new professional chef!
____________________________________________

May – the month of "You May!" Give yourself permission to enjoy Spring's bounty of healthy produce, fruits and flowers. Visit www.purezing.com for the latest finds in what's Healthy, Gourmet, Luxurious and Pure.

Wishing you the most a-MAY-zing month ever, Zingers!

The Team at Pure Zing!

Welcome Spring with this light and fresh delight to the palate. The seasonings and unusual combinations will zing your vegetable recipe collection...
Cool and creamy, this elegant soup is easy to prepare, yet the results are fit for a formal dinner.
Celery root is very potato-like but in a fresher, lighter way. Try this elegant croquet using all organic ingredients!
Ay caramba! A triple exotic: ethnic, organic and grass-fed, delighting the palate and the mind.

Serve with pita bread, with grilled meats or use as a sauce or relish to spice up many recipes!

Get Your Goat Garlicky Potato Pancakes
Leeks, potatoes, garlic and goat cheese combine for a light Spring lunch offering with zest!

Serve these luscious, perfect dessert bars on small lace doilies for a spectacular presentation!