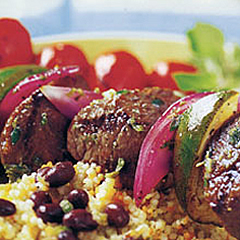 Courtesy of PureZing
This recipe needs to marinate 8-16 hours in advance of cooking.
Serves 6-8
INGREDIENTS:
2 pounds (1-1/2 inches thick) top round London broil beef steak (grass-fed), cut into 2-inch chunks
3/4 cup organic extra virgin olive oil
1/2 cup balsamic vinegar
1/4 cup fresh lime juice
1-1/2 teaspoons dried Mexican oregano, crushed
1/3 -1/2 cup fresh cilantro, roughly chopped
3/4 teaspoon ground cumin
1 serrano chile pepper, sliced into thin rings (use half the chile if heat sensitive)
1 red, and 1 yellow bell pepper, cut into 2-inch chunks
4 cloves garlic, pressed or finely minced
1 large sweet onion, cut into 2-inch chunks
Serve with fresh tortillas, organic sour cream, fresh salsa and additional cilantro and guacamole.
DIRECTIONS:
In a large heavy freezer bag, combine the olive oil, balsamic vinegar, lime juice, cumin, oregano, garlic, and cilantro. Add the chile pepper, bell peppers, sweet onion, and London broil.
Seal the bag and mix contents till the meat and vegetables are completely coated in the marinade. Seal bag (after removing most of the air) and toss to coat all pieces. Marinate overnight or at least 8 hours in the refrigerator, turning and mixing the contents of the bag every once in a while.
An hour before cooking, soak wooden bamboo skewers in cold water.
Preheat grill or broiler.
Using two skewers per kebob, begin with a beef chunk and then put pieces of vegetable. Try to get at least 5 beef chunks per pair of skewers. Reserve marinade for basting.
Grill kebabs over medium heat. Baste and turn kebobs to cook all sides. Cook 15 minutes till beef is medium-rare.
Serve Kebobs with warm tortillas, sour cream, salsa, guacamole and a large sprinkling of fresh cilantro.