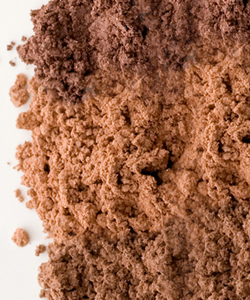 Glow Mineral Bronzers
Ferro Cosmetics

Glow me away! A glow/bronzer for each season of the year, plus one to glow…just because.
These mineral glows might look dark, but a light dusting imparts just the sun-kissed look that makes you look healthy and well, ….glowing!
The first four colors shown above represent each season: Summer, Autumn, Winter and Spring. The fifth color is called 'Glow Baby Glow' and enlivens pale skins or glows darker skins any time of the year.
Each glow contains titanium dioxide, serecite, zinc oxide, mica, kaolin clay, silica, iron oxides and may contain boron nitride. The feel is silky smooth and fine as it is super milled. This soft glow goes on in light layers which allow you to determine the depth of color that you want.
Summer glow gives you that 'I've been on vacation in the tropics' look. Autumn is earthy with berry and gold tones while Winter has peachy undertones that make any winter skin look fresher and healthier. Spring is berry, berry good and gives any skin tone that healthy flush of color that comes from long walks in the fresh air.
For paler skins, any of these colors could be used as a blush, while darker skins will love these colors as a fresh sheen of color-drenched highlight. Be sure and try them all in the mini tester sizes at the beginning of each season and use them all year long even as lip color under lip balm.
Our team also used them on the backs of their hands, on collar bones, shoulders and décolleté. No matter the skin tone of our test team, all the women liked that with a flick of a fluffy brush, they had a hint of healthy-looking color.

You might also like...

Ferro Cosmetics Blush x 3 Great idea: clean, pure mineral colors that look as beautiful on your cheeks as they do on your eyelids or lips. Read more...

Ferro Cosmetics Radiance Foundation
Your skin can breathe with this no-oil formulation that contains no toxins or irritants. Even our sensitive skin team members had no trouble with this foundation … Read more...