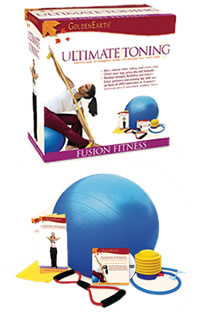 Ultimate Toning Fusion Fitness Workout
Wailana



We think that whoever invented Fusion Fitness was a genius! No more sit-ups, or pounding aerobics. No more weight lifting or twisting into pretzel positions. Fusion Fitness uses extremely simple moves based on Pilates, Yoga and Resistance Training, but gets more out of them by combining the moves with a ball and two resistance bands.
In this box you will find a balancing ball with a foot pump to inflate it, a yellow, stretchy band, a figure-8 band, a DVD with 6 exercises and two posters with additional exercises.
The DVD starts of with a simple standing warm up of 6 minutes. All parts of your body are flexed and rotated to ensure mobility and relaxation before beginning the exercises. Then, you are led through 6 exercises using either the ball and the stretchy band, or the ball and the figure-8 band. Because you are using two accessories at once, all six of these moves are guided by voice and demonstration. These exercises are gently paced, and yet the entire workout only lasts 15 minutes. Throughout each one, you are reminded of your positioning, how to breath or how to get the most out of the exercise. No exercise is rushed or repeated too quickly and some exercises have you take a break before continuing with your repetitions.
The names of the exercises on the DVD are Balancing Ball Back Fly, Biceps Curl, Figure-8 Pull Down, Ab Crunch, Diving Variation and Low Row. Arms, legs, back and abs are all targeted, and in most of the exercises, all of them are in use in one exercise.
These exercises require some coordination, but none require great strength or stamina. Each of these exercises develops muscles that create balance and better posture, and through repetition and familiarity with the exercises just about anyone would be able to achieve a full and flawless routine.
The two posters have additional exercises: one poster has 11 exercises that use only the figure-8 band plus 4 simple stretches, and the other poster has 12 exercises that use the ball only. Pin these posters to the wall or lay them flat on the floor and pick and choose what you have time for. As you are only using one accessory at a time with the poster exercises, it is easy to do the exercise right by just looking at the two photographs per exercise and reading the numbered directions.
We like that the DVD guides you through 6 exercises in 15 minutes. Once you have mastered how to do the more complex multi accessory moves, you can take your ball and bands outside, to the office or do your routine to music…for as long as you want. Add in some of the poster exercises and you have a portable and pleasant way to tone and stretch your way to fitness. No more driving to classes, no more boredom with the same routine. Learn the basics of the DVD and poster moves and select the exercises that suit your mood, location and needs.

You might also like...

Wailana Stretch and Strengthen Fusion Fitness Workout Eight exercises, each based on Pilates, Yoga and Resistance Training, target your abs, legs, arms, back, posture, balance, flexibility and joints. Read more...

Wailana Yoga and Pilates EnviroMat Without the use of toxic materials in its production (no phthalate, toluene, or heavy metals), this mat contains no latex, PVC, chloride or rubber, so it is safe for your skin and the environment. Read more...