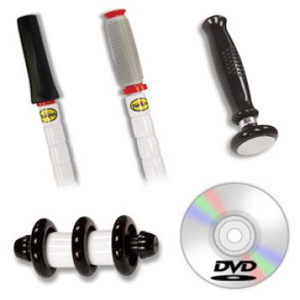 The Stick
by Intracell Technology

All of us, including our four legged friend fur babies love this product!
The PureZing team was at North American IHRSA (the International Health, Racquet and Sports club Association) tradeshow on the lookout for products and services to review for you that fit the PZ requirements and your lifestyle. Did we ever hit PAY DIRT! Gotta give the credit to Bron. He found the gem of gems... or as I like to say, the mother lode of all products, The Stick.
The stick is a self massage device designed to give your muscles all the benefits that you would get from visiting a massage therapist of physiotherapist. By using the Stick on a daily basis (like brushing your teeth) you will achieve a higher level of fitness and overall well being.
OK, so, we walk up to the booth. The fellow pulled out his stick, got down on one knee and started rolling my calf. The shooting pain on the outside of my calf was so BAD it almost felt good. ALMOST. I asked the man WHY there was so much pain? He replied, "Well, there is a trigger point on the side of your calf that is directly associated with your heart. Looks like you need some more rolling." The more he rolled, the pain went away and the better I felt. He proceeded to roll the back of my thighs and then on to my neck and shoulders. The end result was an open, clear, clean feeling in my body. I felt flexible and alive. He told us the more we use it, the better we feel and that the Stick had won multiple awards in the fitness, health and wellness as well as work-place arena. What really got my interest was when he talked about how The Stick was selected as an official training device at the 1996 US Olympic Trials for Track & Field and received the first US patent ever granted for non-invasive remediation of facial wrinkles. SOLD.
Thatís pretty much all I need to hear so I took The Stick home and started rolling. I started thinking about it being the Toothbrush for my muscles as it went in and helped to flush out all the toxins and basically cleaned up everything inside my body. Besides my legs and shoulders, I use the Stick on my forearms and biceps. I work out, travel a lot and carry heavy bags, which has taken its toll on my joints and ligaments. Using The Stick keeps me flexible and limber. Now, all my family members stand in line to borrow my Stick. Even Riley, our 4 legged fur baby. Whenever he sees me starting to roll my body, he sits patiently next to me for his turn. (FYI, There is a Stick for dogs. Check out the review in the pet section.)
More about The Stick. There are different lengths (up to 30 inches) and flexibility styles (moderation of firmness in the flexibility) of The Stick. I have the Travel Stick, 17 inches in length, with standard flexibility. Each length is designed to roll knots out of your muscles, providing myofascial release and trigger point therapy. Let me explain what all this means to you. Have you ever had a knot in your shoulder or back? Or a really bad charley horse in your leg? Have you ever been stiff and canít seem to roll out of bed? Ok, so, normally, you go and get a massage. Some people STILL pop pills. Or if you are really into alternative therapies, you go to a Rolfer and have a few sessions where they work really deep in your tissue, breaking down the rigidity in the fascia of your muscle. Painful and expensive.
By rolling The Stick over the muscle, the action of the rolling and the pressure inactivates the trigger points (muscle knots/kinks), warms the muscle, increases circulation and encourages nutrient rich blood flow. Not to say that there is no pain with The Stick. The more you use The Stick, the less pain there is, the more the body comes into balance.
The stick can be used on skin or through light clothing. It is waterproof and designed to bow without the fear of breaking. The amount of pressure is determined by you and how hard you roll. Or someone else rolls.
As PureZingers, we know there is no separation with mind, body and spirit. Everything is interconnected. We are either in balance or out. The Stick helps bring us back to center. And thatís a good thing.

PROS:
Affordable
Portable
You donít need anyone to help you with The Stick, you can roll yourself.
Drug Free

Helps to:
Increase Flexibility
Increase Endurance
Reduce Muscle Soreness
Accelerate Recovery Times
Increase Circulation of Blood
Warm-up Muscles for Activity
Cool-Down Muscles After Activity
Indentifies Possible Soft-Tissue Injuries
Helps to Rehabilitate Soft-Tissue Injuries
The materials used are Phthalate free

CONS:
Some people donít like pain.
You will feel pain.
Where to buy:
Some sporting good stores.
AWARDS
| | |
| --- | --- |
| | The Stick... Winner of 2012 Sweatshop Awards for the Running Industry – Bronze Award. "Best Injury Prevention/Recovery Product" – Middlesex, United Kingdom |
| | The Stick... Winner of Best in Show for 2010 – Massage Therapy | Voted Number One by members of the National Athletic Trainers' Association (NATA) for the third year in a row! |
| | The Stick... Winner of Best in Show for 2009 – Massage Therapy | Voted Number One by members of the National Athletic Trainers' Association (NATA). |
| | "Best in Show – Massage Therapy – The Stick, RPI of Atlanta" The National Athletic Trainers' Association (NATA) 2008 Trade Show Award |
| | "The Stick Ė Top 50 Award" |

You might also like...

Wailana Yoga and Pilates EnviroMat Without the use of toxic materials in its production (no phthalate, toluene, or heavy metals), this mat contains no latex, PVC, chloride or rubber, so it is safe for your skin and the environment. Read more...

Wailana Easy Starter Fusion Fitness If you haven't exercised in a while, this is definitely the program to start with as it is gently paced, easy and calm, and yet still gives results. Read more...