Beauty So Clean Cosmetic Mist Sanitizer
Removes bacteria and germs on powder-based products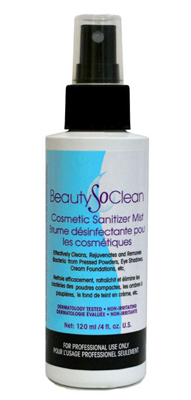 Hi everyone today I'm going to be reviewing a Cosmetic Mist Sanitizer from Beauty So Clean. Now you might be saying why do I need a cosmetic mist sanitizer? Did you know germs and bacteria live and grow on your cosmetics -- everything from creams and powders, blushes and foundations, lipsticks and eye shadows?
Tests were done on dirty, not so clean pallets of eye shadows and foundation. Results came in that E.coli, Staph and one that sounds like the Adnronima Strain. ( in reality this bacteria is called Pseudomonas Aeruginosa - a word way too big for me to even talk about or pronounce.) The fact of the matter is, these germs should not be on your make-up anyway! Perhaps that is the reason WHY I got a staph infection in my eye many years ago while working on TV.
When I read that, that was when Beauty So Clean got my attention!!
So, letís get into the good, the bad and the ugly.
THE GOOD: Well, with Beauty So Clean Mist Sanitizer, its compact, fits into your purse, affordable and just one spritz and those germs are gone!
Beauty So Clean has been clinically proven to remove bacteria from all make-up within 10 seconds. Just one spritz and the Ecoli, Staph and the mystery bacteria donít have a chance.
Beauty So Clean works on new eye shadows, new lipsticks and new foundations (liquid and powder). All you have to do is hold your Beauty So Clean 6 inches away from what you are sanitizing and just one spritz is all you need! One spritz is going to help to keep germs off of your make-up.
What his means to you is that your powder and cream based items such as blush, eye shadow, concealers, bronzers, lipsticks and foundation stay germ free, go on clean on your face and are going to last a lot longer!
Did I try the mist sanitizer? You betcha! As quick as a bunny. EASY BREEZY. And I love the confidence it gives me every time I whip out my pressed powder knowing it is clean as a whistle.
THE BAD: Well, the bad is not so bad. Beauty So Clean will not work on ugly make-up. What I mean by that is make-up that has already been used: eye shadow, powder/cream foundations, blushes and lipsticks. The damage has already been done. So, if you have let your cosmetics go, meaning, not taken care of them, which is what I did -- this product will not work. (Examples of letting your product go areóan oil build up or glazing on powder blushes and powder foundations; eye shadow pallets that obviously have seen better days; lipsticks that have been used over and over again.) THROW THE OLD STUFF OUT AND START OVER AGAIN. (I did.) YOUR FACE IS WORTH IT.
THE UGLYóNothing ugly about the product, the only thing ugly is all the germs living on your make-up. Question?? Would you continue to wash your face with a facecloth month after month that has never been washed? NEVER. That is what you are doing when you apply old dirty make-up.
One mention... REMEMBER to wait 10 seconds after misting BEFORE you close your compact or close your lipstick. I did not wait the 10 seconds and the powder sticked. Just a little helpful hint for you...
Beauty So Clean Misting Sanitizer can be found all across Canada, the US as well as Europe. In the United States, it can be found in make-up/beauty boutiques in New York, LA, Dallas, Minneapolis, West Hollywood, Chicago, Atlanta and Henderson.
In Europe, Beauty So Clean can be found in France, the Netherlands, Germany and the UK.
You can also order on line at www.beautysoclean.com
The misting solution is $12.50 for .27 oz.

You might also like...

Amazon Super Foods Lluvia Replenishing Moisture The fragrance and feel of this product are very different, but amaZing: complements of ingredients that most of us have never heard of before… and never experienced, until now. Read more...

Amazon Super Foods Lluvia Camu C Serum A tropical rainforest plant, Camu Camu has a super concentrated source of naturally-occurring vitamin C which is a well-known antioxidant, free radical scavenger and promoter of collagen formation. Read more...