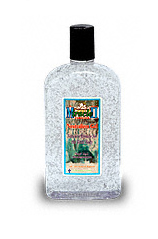 Miracle ll Neutralizer Gel

Miracle Soap

'Nature's Miracle for the Total Body' are the opening words describing this amaZing product! You know what? We have to agree! This clear gel filled with glistening, tiny suspended air bubbles does not fall neatly into just one area of the body like your facial skin…it actually has many uses: from detangling and smoothing hair, as an after-shave balm, as a mild sudless soap, glowing your complexion and soothing sunburn to warding off mosquitoes and healing rashes, cuts, irritations and wounds! We've used this versatile gel for all of these purposes, and really like the results.
This non-oily, non-staining gel is thick when you put some in the palm of your hand, and yet when you rub it onto your skin or into your hair it feels almost like a light water…water that completely disappears! There is no sting, no fragrance and absolutely no residue or coating left on your skin or hair after application. It really is amaZing!
The owner was inspired by God to create a totally toxin-free line of products that have multiple uses and benefits. There is no SLS, SLES, methyl parabens, propyl parabens, ethyl parabens, butyl parabens, dyes, propylene glycol or DEA like you can find in other body, hair and balm products on the market. The ingredients in this product are completely pure, non-toxic, non-carcinogenic, detoxifying and good for you!
What are the ingredients? Prayer, electrically engineered eloptic , energized, stabilized, oxygenated water, ash of dedecyl solution, calcium, potassium, magnesium, 940 (carbopol) and the anointing of God. The water is alkaline, the minerals heal and soothe and are easily available to your body due to their electrical treatment. Nothing is irritating in this formula and its simplicity amazes us as it has so many uses…and is so good at doing what it claims!
Want to soothe your skin after shaving? How about tone, tighten and glow your complexion? Keep the bugs away or soothe a bite from one? Need to detoxify and clean your skin? Have a rash or a cut that you want to heal quickly? Is your hair tangled after shampooing and you want it to unsnarl and be tamed? Well, this is your all-purpose, natural miracle for your entire body: from top to toe, stem to stern. This product is also an excellent carrier for their line of Path to Perfect Health essential healing oils which combat stress, colds and flu, wrinkles, pain, weight…and more!
Availbable in 8-ounces, 22-ounces or even a gallon container, you can purchase a pump top, or just flip the cap to dispense this light, clear, non-oily product that disappears almost immediately…but works! Stow a bottle in your desk at work; in your locker at the gym; toss it into your backpack; keep it in your potting shed; take it on a trip; and keep it in every bathroom. Truly Zingy, and Purely amaZing, this could easily replace almost all your other bottles, potions and lotions. WOW!

You might also like...

Maxx Collection MaXXimizing Body Wash The male consensus is that it's way cool…and that if the women dare to test this, they better bring it back! Read more...

Miracle Soap Miracle ll Skin Moisturizer
Due to the energized, oxygenated water, this lotion also detoxifies your skin as it deeply moisturizes. Now that's a terrific lotion! Read more...