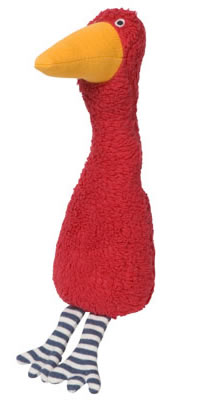 Lana Red Organic Goose
Oompa

We don't care how old you are…you will not be able to suppress a chortle and an 'awwww!' when you see this cuddly organic toy!
Hand made entirely from 100% organic cotton and with pure wool stuffing, this eggplant shaped red goose with the bright yellow beak and navy and white striped feet is positively adorable. The manufacturer oversees the growing of the cotton, the gathering of the wool and the talented craftspeople that put these toys together by hand. Only the best of the best to create the perfect toy for your little one!
Lightweight, super soft and completely toxin-free, this is the toy that your baby or toddler can safely gum, chew, cut their teeth on, sleep with and love. No plastics, no chemicals, no pesticides or herbicides used on the materials, this organic toy is supremely safe around all babies and children.
This silly goose is 12 inches long from top of head to tip of toe and his bright eyes are embroidered, not button. Pop him in the washer and dryer, or hang him in the sunshine to dry, and his whimsical personality is sparkling and lovable again.
Although we LOVED this gangly goose, we need to warn you…there are a whole gaggle of these organic geese, plus a dragon, donkey and cat that will totally steal your heart! If you have a baby or toddler, or know of some, these are the perfect toys to shower them with: safe, fun, toxin-free and charming.
Watch out! You too will fall in love with the simple, adorable designs of these toys…no matter how old you are. Although they are some of the cutest cuddly toys we have seen, being organic makes them irresistible!

You might also like...

Oompa Kathe Kruse Organic Grabbing Gnome Moon and Stars
The fabrics are super soft and completely organic with no pesticides, herbicides, synthetics or chemicals. Read more...

Seaside Naturals Baby Belongings All-Purpose Cleaner This is an inspired product that every mother should have within reach for the first five years…(maybe eighteen)…of her child's life. Read more...