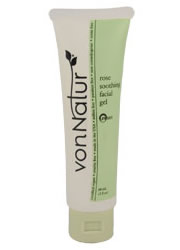 Soothing Rose Facial Gel

Von Natur

This is such a lovely and unusual product! A light as air, clear gel made from rose distillate glosses over your skin and cools while it is drying. In a moment, it is gone, and the faint scent of roses slowly fades.
Rose distillate is from rose petals and is soothing, hydrating, mildly astringent and contains disinfectant properties. Often used for its anti-allergic substances, rose distillate is especially well suited for allergy-prone skin.
Distillations of rose have been used through the centuries and have found favor with more mature skin also. Just like the rosewater that our grandmothers used, this is classic and simple. Instead of needing cotton balls though, this light gel smoothes on, soothes and cools…and then disappears. No trace is left and you don't even need to rinse your hands.
We know that we loved this fragrant gel. As there is no grease or oil, no shine is left behind or will appear on a hot day. This is appealing in the summer when other moisturizers sometimes just feel too heavy. Use this to cool the heat of the day from your face and neck or start your day with this when you want only the very lightest moisturizer that also soothes: gloss it on and go. Only your soothed skin will know it's there!
Two ounces of a distillation of roses, with mannan, edta and citric acid. That's all that's in it. We think this is a classic with a modern twist: the clear gel is cool!

You might also like...

Lily Organics Organic Moisture Mist
Without creams or oils, we could see a smoothness and softness after using this light but highly effective mist. It was as if we had used a moisturizer…but not any kind of moisturizer that we were familiar with. Read more...

Von Natur Relief Ointment It works, it smells great, its not greasy and its Pure. Five out of five! That's PureZing! Read more...