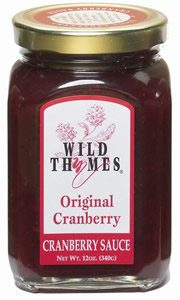 Do you know of a great product that you think we should review? Contact us and let us know!
Original Cranberry Sauce
Wild Thymes

Wow! Now this is what cranberry sauce should taste like! Once again, it is the simple ingredients that often carry the most punch: fresh cranberries, sugar, whole oranges and whole lemons. Every ingredient is in just the right amount so that a mouthful sings with each and every flavor: no one particular flavor predominating or masking another. Not too sweet, the full cranberry flavor is rich without a hint of bitterness, and the citrus is a high, clear note that is not too tart.
If you have been looking for the perfect cranberry experience, we would venture to say that this is it! No additives, all natural and with the Kosher Seal, this is smooth, flavorful and with a delightful chew of whole berries and tender rinds.
Just in case you yawn over what you think is just a sauce to go with turkey, feast your eyes and palate on the uses that the creators of this sauce have come up with!
Linzer Muffins that have cranberry sauce baked into them, Cranberry Mimosas that are as beautiful as they are refreshing and a recipe called Berry Rollup in Phyllo that uses ricotta. Yes, they even have a recipe for a Turkey Cranberry Club that will have you buying turkey more often!
This cranberry sauce is considered one of the best that anyone on our team has ever eaten (sorry mom's!) and you really ought to try it. 12-ounces of ruby-red perfection…and lots of creative ways to use it!

You might also like...

Wild Thymes Cranberry Raspberry Sauce The texture is satisfyingly chewy with plump raspberries, bursting cranberries and the bittersweet flavor explosion of rinds. Read more...

Wild Thymes Mango Papaya Chutney Hardly hot, the spices are not so overpowering that the fruit flavors are lost. You can distinctly taste fruit in each mouthful. Read more...