Glycemic MRP Instant Vanilla Shake
Glycemic Level
Well if you have read our review on the chocolate-flavored meal replacement you will know that the whole Pure Zing team raved about every aspect of it. We feel exactly the same way about this yummy vanilla flavor! Not only is the formulation smooth, silky, and richly vanilla, the nutritive benefits are amaZing!
Yes, we all want great taste with our meal replacement, but we also want vitamins and minerals and health benefits too!
Now, down to the real bottom line! Check the Supplement Facts image for the run down on all the goodies that you will get every time that you sip or chug this rich-flavored and simple to make meal replacement.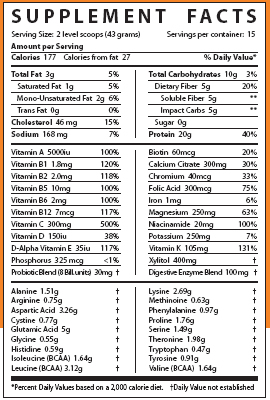 This meal replacement is so easy to make: put two scoops (scoop provided) into 6-8 ounces of cold water (or milk) and shake it up. This ultra light powder immediately blends (lump-free!) into a rich-tasting vanilla shake that is totally satisfying down to the last drop. The Pure Zing team even blended this with a banana in the processor and it was eye-rolling rich! We can just imagine what this would be like with fresh strawberries, mango or blueberries blended into it…oh my!! As the vanilla flavor is so yummy, be sure and use it like milk and pour it over oatmeal, and even add a teaspoon of this powder to your coffee or tea instead of those chemical-laden 'creamers'.
The ingredients are low glycemic protein blend (whey protein, concentrated milk protein isolate, whey protein isolate), organic brown rice powder, glucomannan fiber, carageenan fiber, guar gum fiber, fibersol2, acacia fiber, chicory root fiber, high-oleic sunflower oil, conjugated linoleic acid, xylitol, lo han extract, stevia, vitamin and mineral blend, digestive enzyme blend, probiotic blend (acidophilus and bifidus), omega 3 fatty acids, garcinia cambogia, natural flavors, citrus bioflavanoids and trace minerals. The fibers are from all natural plant sources, the xylitol is from food sources and is candida friendly, and the lo han extract is flash dried and contains no sugar.
Even though this product contains milk, it is lactose free. It is also gluten free and is a great weight loss management meal replacement as one serving contains only 177 calories. Due to the low glycemic index of this product, it is been found to be perfect for diabetics and those with syndrome X. The owners also rave about this product for people with candida, fibromyalgia and chronic fatigue syndrome.
You can literally replace three meals a day with this rich-tasting product and healthfully manage your weight as well as your glucose levels. Most people though use it for breakfast and between meal snacks…and on the run. On a recent cross-country trip, two Pure Zingers used this every morning to circumvent the high sugar, high carbohydrate, greasy, nitrate and nitrite ridden breakfast options that are prevalent in hotels and breakfast establishments. They reported that it was easy to pack, a snap to prepare, super satisfying, fiber-rich and far less expensive than any meal options… and that the taste was Pure Zing! You've GOT to try this to see just why our whole team loves it so much!
You might also like...

Glycemic Level Sweet Source
For anyone with diabetes, or with Syndrome X, this chemical-free sweetener that regulates blood sugar is amazing! Read more...

Glycemic Level Glycemic Level MRP Instant Chocolate Shake A healthy shake for when you don't have time to fix breakfast, or if you are hungry between meals. Takes less than a minute, tastes like chocolate milk, has 72 trace minerals plus digestive enzymes and is made from all natural ingredients! Read more...