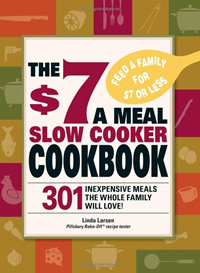 The $7 a Meal Slow Cooker Cookbook: 301 Delicious, Nutritious Recipes the Whole Family Will Love!
By Linda Larsen

Gone are the days of TV trays and microwaveable meals as more and more families choose to return to the dinner table. Yet as food costs continue to rise, and parents are always strapped for time, they need new ways to cook easy and affordable meals for their kids - and fast. With this cookbook, families will find 301 great recipes that almost cook themselves, including: Spicy Turkey Meatballs; Hearty Root Vegetable Soup; Pizza Fondue; Crock-Pot Fajitas; Black Bean Lasagna; and more. This comprehensive, all-purpose cookbook is packed with simple instructions, nutritional information, and the amount of money needed for each recipe and makes preparing delicious, healthy, and cheap meals easier than ever before.
This cookbook comes at the nick of time. With the current state of the economy, saving money on food is more important than ever. Is anyone else out there shocked every time they go to the grocery store?? Some of my family's favorites:
Spicy Peanut Chicken (you can omit the jalapenos for the kiddies)
Chicken Marsala -- yum!
Fork Tender Pot Roast
Texas BBQ Beef Sandwiches
Broccoli Cheese Soup
Those of you who use slow cookers know how wonderful it feels to get dinner prepared in the morning, go about your day, and come home to that heavenly smell knowing that your work is 99% done! I highly, highly recommend this cookbook for anyone who wants to get organized, save money and eat well!
For more reviews and to purchase please click the button below: