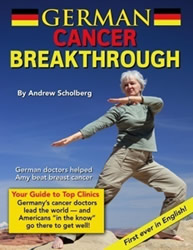 German Cancer Breakthrough – Your Guide to Top German Alternative Clinics
by Andrew Scholberg

Do you think that chemo, radiation and surgery are the ONLY methods to get rid of cancer? Why are you only being told about the invasive and poisonous treatments when the people pushing them are being treated with gentle and highly effective alternative methods? Here is a quote from this eye-opening book from a German doctor who was famous for his alternative cancer treatments (treatments that are not allowed in this country!)
'Let me tell you something you may find odd. Executives at organizations such as the American Cancer Society and agencies such as the U.S. Food and Drug Administration (FDA) strongly recommend that you undergo the traditional American treatment when you get cancer. So you'd think they'd practice what they preach when they get cancer, right? Well, you're in for a surprise.

Back in 1987 a man named Jeff Harsh, who was working on a video documentary, interviewed one of Germany's top cancer physicians, Dr. Hans Nieper, M.D. (1928-1998). Dr. Nieper helped his patients get rid of cancer by using alternative methods the FDA forbids in America. One of Dr. Nieper's forbidden methods was the natural substance called Laetrile, which is derived from apricot seeds. In the interview, Dr. Nieper said, "President Reagan is a very nice man," having treated him for cancer in July of 1983. Dr. Neiper added, "You wouldn't believe how many FDA officials or relatives or acquaintances of FDA officials come to see me as patients in Hanover. You wouldn't believe this — or directors of the American Medical Association (AMA), or American Cancer Society (ACS), or the presidents of 3 orthodox cancer institutes. That's the fact."
Well, there you have it. The wealthy executives who run the ACS, the FDA, and the AMA beat the drum for American-style cancer treatments that they recommend for you and your loved ones. But when they get cancer, well, that's different: many of them head for Germany.' p. 2-3
If that makes you angry, it should! Vital information is being purposefully withheld from the American public – information that could save lives and BILLIONS of dollars. Well, there is your answer. Billions of dollars would not flow into the coffers of the pharmaceutical companies, the hospitals and the cancer organizations if it were known that there were alternative, gentle and safe cures that were affordable. So 'they' keep quiet about the alternative methods that 'they' use and 'they' are the ones that make them illegal for you and me to use in this country!
Follow the money….and then read this book to find out where YOU can go and avail yourself of the same treatments that the heads of the FDA, AMA and ACS and other cancer organizations get when they get cancer. They do NOT get chemo, radiation or have invasive surgery; they go to German and Austrian alternative clinics!
There are 56 pages in this book. You can get it immediately in e-book form or have a hard copy delivered to you in the mail. Over a dozen alternative methods are described, names and contact information given and even website addresses of people who were cured in Germany and want to share their knowledge with others. One of the alternative methods is so effective that people even report relief from arthritis, high blood pressure, diabetes, stress, thyroid conditions, skin problems, ulcers, ADHD, MS and of course, cancer.
Six clinics are discussed in depth: treatments given, cost, testimonials, how to get to the clinics, the advantages of each clinic and disadvantages (if any!) Complete contact information is given for each clinic: websites, e-mails, telephone numbers, who to contact and fax numbers. The area that each clinic is in is described as well as some of the local places to visit.
In skimming through this e-book, here are a few of the subtitles that show just how effective these alternative treatments are:
• Former bone cancer patient zips around Europe on a motorcycle

• Patient from Spain gets rid of metastasized prostate cancer

• Mild treatments – no harsh side effects

• Five year old boy with brain cancer enjoys his treatments!

• Manfred should have died from his inoperable metastasized kidney cancer

• The dreadful damage of traditional cancer treatments

• The ingenious therapy that had devastating effect on Barbara's metastasized breast cancer

• You can benefit from German therapies in the comfort of your own home

• German doctor compares American cancer treatments to 'deforestation'.

• New therapy that outsmarts cancer cells isn't available in U.S.
In addition to the in-depth German and Austrian clinic information, this book tells you what to do on your own to change your lifestyle to prevent cancer from coming back. Need help in deciding which clinic would be right for you? Contact information is given in this book so that you can get your questions answered by phone or by e-mail.
On average, the treatments in the German and Austrian clinics cost about the same as a compact Honda, and the results are spectacular! In the United States it costs on average $350,000 to DIE from your cancer treatments. What's your choice? You know what the heads of the FDA and AMA choose for themselves, their families and friends. Why do they go to Germany and Austria? Because it works! You should have the same, low-cost, gentle, alternative treatment choice that they use! Do what they DO! Don't do what they say! Get this life-saving book. We can't recommend it highly enough: it's PURE ZING! As if 56 revealing pages are not enough! The authors want you to be FULLY informed and so with this book they are including five special reports for FREE, each one of them eye-opening, amaZing and potentially life-saving.
1. Colonic Hydrotherapy – The Key to Detoxifying Your Body. This bonus report discusses why you should do colonic hydrotherapy, how to do it at home, what to put in the water, where to get the equipment, why you should see a professional before doing it yourself, and how often to do it. This is one of the methods used in Germany to help rid your body of toxins that contribute to cancer and disease.

2. Taking the Waters…at Germany's Newest State-of-the-Art Spa. This bonus report discusses the use of hot and cold water, mineralized water and massage for their healing benefits: how they work and how to do it at home.

3. The Therapy from Space – NASA Technology Meets Modern Medicine. Wait till you read this bonus book! A simple procedure that is totally non-invasive and even relaxing is being used to unclump cells (a sign of ill health) and have cells flowing freely and healthfully throughout your body. This treatment combats dozens of diseases!

4. The Amazing Anti-Cancer Effects of Mistletoe Therapy. Rather than have chemo or radiation, this is one of the alternative treatments that Suzanne Sommers used to cure her breast cancer. Find out how you can find a doctor to administer this anti-tumor extract to you in the U.S.

5. Bobby's Story – How Two Determined Parents and One Brave Three-Year-Old Defeated 'Hopeless' Cancer. Read this amazing story about how two parents went against the advice of regular doctors and what they did to save their child from certain death! Due to the many alternative approaches they used and how well their child did compared to other children with the same disease, they have raised money to make the alternative treatments available to 30 other children. These parents even have a website that you can visit to gather more free information concerning their very special approach and knowlege.
Get the information that 'they' don't want you to know about. It could save your life, or the life of someone you care about.